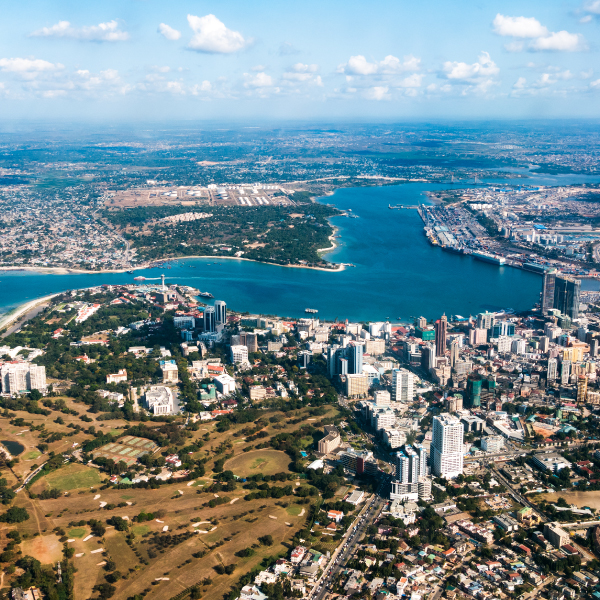 We expect GDP growth to decline to 4.5% y/y in 2020 and expand by 7.0% in 2021. We see the C/A deficit narrowing to 1.8% of GDP in 2020 and widening to 2.5% in 2021. We see USD/TZS trading close to 2340-2350 levels by the end of 2020.
Medium-term outlook: 2021 growth to rise
We still see GDP growth sliding to 4.5% y/y in 2020 but recovering thereafter to 7.0% y/y in 2021. Most African economies declined in Q2:20 due to lockdowns and disrupted global supply chains. However, Tanzania had imposed no lockdown or curfew, so one can argue that economic output didn't suffer as much as elsewhere during Q2:20. Still, the services sector would have suffered as cross-border travel ceased. Furthermore, transport sector activity too would have diminished in Q2:20 on reduced global trade. However, as external demand has picked up since May and regional landlocked economies surrounding Tanzania have relaxed restrictions, a revival in the transport sector may be imminent over the coming year and be broadly supportive of economic growth. Gold production at local mines has remained relatively robust. And, with gold prices likely to remain well supported over the coming year, the mining sector should continue performing relatively well. Moreover, with elections in Oct 20, the government might further increase infrastructure investment which too should support economic activity.
Balance of payments – imports declining
We revise our C/A deficit forecast to 1.8% of GDP for 2020 from our previous expectation of 3.0%. Despite the weaker tourism and transport sector, which will weigh down service receipts in 2020, exports of goods could remain relatively resilient. While we expect transport earnings to pick up as economies in the region ease restrictions, tourism receipts will probably only recover meaningfully from H2:21. But then again, the oil import bill has reduced substantially following the sharp decline in international oil prices since Mar. This supports our decision to lower our C/A deficit forecast for 2020. The import cover remains above 6.0 months, implying that the BOP position is still broadly favourable. Even after elections in Oct 20, we'd still expect public investment in infrastructure to remain elevated, which should lead to a wider trade balance. Thus, we'd expect the C/A deficit to widen to 2.5% of GDP in 2021 — but increased government spending will largely be a function of the availability of external funding, though this has proven cumbersome to source over the past 3-y or so.
Monetary policy – could ease again should PSC growth remain weak
We still expect the MPC to adopt an accommodative bias over the coming year. The MPC cut the Statutory Minimum Reserve (SMR) ratio to 6.0%, from 7% in May. The BOT discount rate was also lowered to 5.0%, from 7.0% previously. Should private sector credit (PSC) growth remain tepid, the MPC will probably ease its policy stance again over the coming year. Indeed, we see the MPC cutting its key policy rates again over the coming year because we expect PSC growth to remain muted for much longer. Commercial banks will probably be reticent to extend credit to the private sector until their perception of asset quality has improved. Judging by previous cycles where banking sector non-performing loans (NPLs) spiked and PSC growth abated, the recovery in PSC growth typically takes 8 to 12-m. We see headline inflation at 3.5% y/y in Dec 20 and 4.0% y/y in Mar 21 as base effects unwind and international oil prices recover. Thereafter, we'd see headline inflation falling to 3.7% y/y in Jun 21 and then increasing to 5.3% y/y in Dec 21. Given that we still expect the output gap to remain wide in 2021, we see limited risks for this economy to overheat.
FX outlook – near-term weaker bias
We still expect USD/TZS to rise to 2340-2350 by end 2020. Despite the shortfalls in export earnings stemming largely from the tourism sector, we would argue that the BOP position hasn't deteriorated to an extent that would result in such severe FX liquidity insufficiencies. After all, FX reserves and import cover remain adequate. However, the BOT hasn't been supplying adequate amounts of FX to the market via direct sales. Furthermore, a raft of new FX operation guidelines implemented in Aug may exacerbate already slim USD liquidity. Moreover, even if the apex bank were to increase USD sell-side interventions in the market, the USD/TZS pair may initially move higher because clearly a fair amount of import demand has been building up.