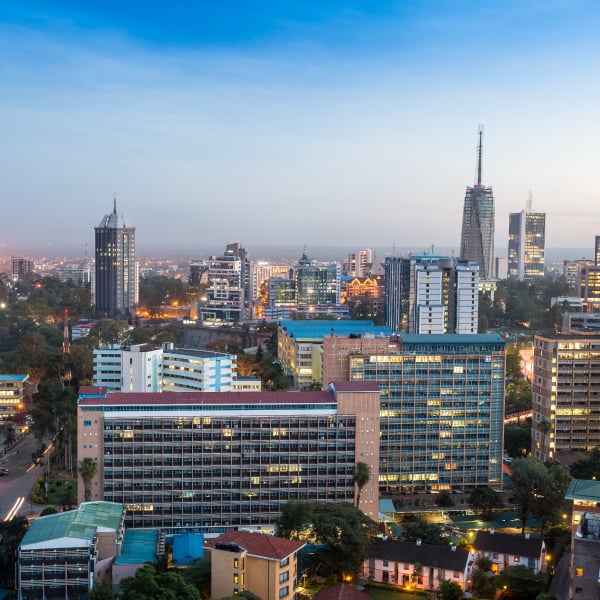 We forecast GDP growth at 3.0% and 6.o% in 2020 and 2021 respectively. We expect the C/A deficit to reach 5.1 and 5.3 in 2020 and 2021 respectively. We see USD/KES trading around 105 by the end of the year.
Medium-term outlook – depends on pandemic's duration
We now expect GDP growth to slide to 3.0% y/y in 2020, from our previous forecast of 5.9% y/y. Due to erratic weather conditions. economic disruptions associated with the pandemic will weigh on net exports. The pandemic's impact will be far-reaching and afflict most key sectors such as tourism, floriculture, trade, manufacturing, transport and even construction. Not surprisingly, the tourism sector has been the hardest hit due to the global travel restrictions. Anecdotal evidence implies mass retrenchments already across this sector. This may make a V-shaped recovery unlikely for tourism. Our base case is for a U-shaped recovery in economic activity, with GDP growth expected to recover to 6.0% y/y in 2021. For this to pan out, local curfew restrictions would have to be eased by end of Jun or early Jul. Our base case also relies on the infestation of desert locusts not destroying key crop harvests in H2:20.
Balance of payments – service exports to decline
We expect the C/A deficit to widen moderately to 5.1% of GDP in 2020, from 4.8% in 2019. Arguably, the pandemic will sharply weigh on export earnings. In addition to weaker receipts expected from the tourism and floriculture sector, service receipts from the transport sector are also likely to wane over the coming year.The outlook for diaspora remittances is looking rather bleak. However, remittances rose by around 6.0% y/y in Q1:20. Nonetheless, we suspect that the impact of global lockdowns could be reflected in remittances from Mar 20 onwards, weighing on net current transfers.
Monetary policy- accommodative bias persists
We expect the MPC to cut its key policy rate by a further 50 bps before end Dec 20, and thereafter remain neutral in 2021. We see headline inflation remaining rangebound, averaging 4.2% y/y in H2:20. Unfortunately, in the absence of a historical data series, it's cumbersome to model and forecast inflation after the CPI rebase in April. Hence, as we get more data from the rebase, naturally some of our forward-looking forecasts could also be altered.
FX outlook - depends on global risk conditions
We expect USD/KES to trade in a 104.5-105.0 range until end Dec 20. The pair had drifted upwards as global risk aversion rose, triggering foreign portfolio outflows from both the KES equity and fixed income markets. Perhaps the worst for the KES is behind us but as the pandemic situation and global risk sentiment are so fluid, notable upside risks to USD/KES remain. The decline in oil imports could be positive for the KES, while official capital inflows from multilateral donors should boost FX reserves and somewhat offset the weakness in export earnings.