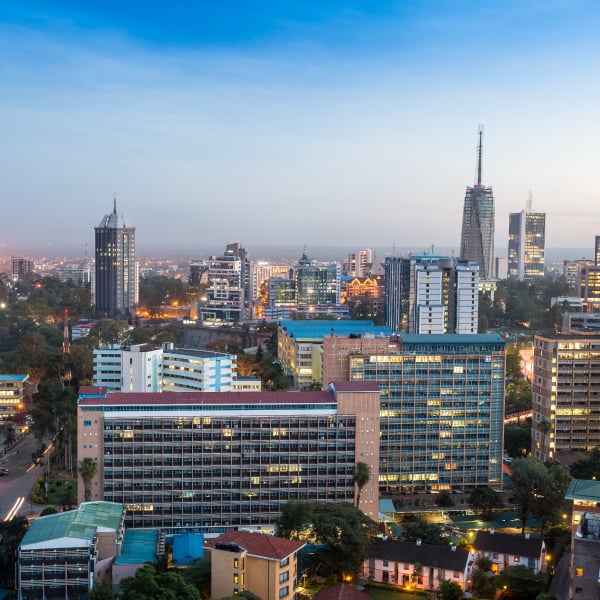 We forecast GDP growth at 3.0% and 5.9% in 2020 and 2021 respectively. We expect the C/A deficit to reach 5.7% of GDP in 2020 and 2021. We see USD/KES trading around 107 by the end of the year.
Medium-term outlook – growth to recover from H2:20
Our base case foresees GDP growth of 3.0% y/y in 2020 and 5.9% y/y in 2021. Indeed, besides the telecommunication sector, the wider services sector, mainly tourism, trade and transport, will probably contract sharply in Q2:20. However, the agricultural sector, accounting for a nearly a third of economic output, has performed quite well in Q2:20. Despite concerns around desert locusts and floods earlier this year, the broader agrarian sub-sector has been relatively resilient. Maize and bean production were up 7.7% y/y and 26% y/y respectively in H1:20, and potato production was also up 43% y/y. Even tea production was up 42.0% y/y in H1:20. Indeed, the re-opening of economies globally has begun to aid a recovery in external demand for Kenya's exports. The government re-opened international airspace on 1 Aug. However, we don't expect a meaningful recovery in international tourist arrivals, at least until there is a global vaccine. In the interim, the authorities aim to boost domestic tourism. The Stanbic Bank Kenya PMI rose to a 13-m high of 54.2 in Jul, from 34.8 in Apr, implying that the easing of the domestic curfew and the pickup in external demand have begun to underpin economic activity, albeit off a low base in Apr.
Balance of payments – service receipts set to slide
We still see the C/A deficit at 5.1% of GDP in 2020 and 5.3% in 2021. We don't expect any notable pick up in tourism receipts, until there is a global vaccine, notwithstanding the recent re-opening of the international airspace. Still, transport receipts should fare much better from H2:20 as global supply chains are being restored. Imports of goods will probably ease further due to the slide in international oil prices. Furthermore, even as economic activity gradually recovers from H2:20, we don't see consumer imports picking up sufficiently in a manner that would put pressure on the C/A balance. Interestingly, diaspora remittances were up 3.9% y/y in H1:20 despite our earlier concerns that net current transfers could subside due to weaker global growth. The capital and financial account will probably continue to receive support from government budgetary support loans. Earlier in the year, courtesy of multilateral loans, FX reserves rose to around USD9.7bn.
Monetary policy - neutral, with an easing bias
We expect the MPC to hold its key policy rate at 7.0% this year. Still, an accommodative bias will likely persist – but we'd foresee the MPC only looking to ease again this year should economic conditions be known to be deteriorating further. We now see headline inflation falling further to 4.1% y/y by Dec, supported by favourable base effects and lower food prices. Crucially, the historical data set for the rebased CPI now being published by the CBK, should go a long way in assisting us in forecasting inflation. We expect headline inflation to rise to 6.2% y/y in Mar 21 and thereafter ease to 5.9% y/y in Jun 21 and 5.1% y/y in Sep 21.
FX outlook - KES appreciation bias
We expect USD/KES to subside to a 106.5-107.0 range by year-end. The KES was volatile in Mar-Apr due to the stronger USD globally which resulted in an increase in foreign portfolio outflows and broadly negative sentiment. Once global risk conditions improved, the USD/KES declined. Then, as domestic curfew restrictions were relaxed in Jun, there was an initial increase in import demand which placed upside pressure on USD/KES. And, owing to the pandemic, most annual general meetings were postponed from Mar to Jun/Jul, which is why there was more pressure on the local unit then too. Once large firms have completed their USD purchases from the market associated with dividend payments, the KES could appreciate, but that would largely depend on global risk conditions being positive.