PowerPulse - Alternative energy solutions
A digital platform designed and built to transform the way we produce, deliver and consume energy in South Africa and beyond.
PowerPulse enables you to engage with accredited energy solution providers, in an efficient and competitive manner, to deliver cost saving and sustainable energy solutions for your business.
As part of our long-term commitment to drive the right environmental decisions and with the commercial sustainability of our clients in mind, Standard Bank has developed PowerPulse. It is our ambition to accelerate the adoption of renewable energy solutions in Africa by providing a platform that fulfils a supportive, coordination and optimisation role in these projects.
Learn more about Standard Bank's Power and Infrastructure capabilities.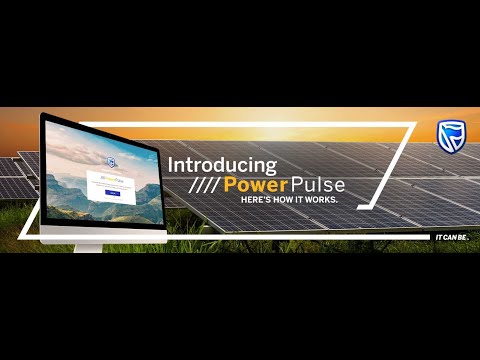 PowerPulse - Your step by step introduction.
PowerPulse will guide you through a streamlined process to give you access to trusted solution provides along with feasibility and comparison reports to help you make informed decisions.
Watch this video to find out more.
POWERPULSE PODCAST SERIES